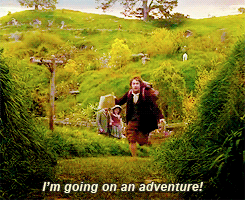 In about 27 hours, I leave for London!! and in exactly 10 days, I will (hopefully) be on the summit of Kilimanjaro, waving to the world.
Our wonderful outfitters
have provided us with all the information, and our "cruise director" for London, Danna, has set everything up for us so beautifully, that I'm not even worried that it's supposed to be raining the entire time we're there.
I'm a bit like Bilbo, heading off into the unknown, with only a map and a wizard to guide him and his hairy little feet. Okay so not exactly like that, but I do feel the same. I'm also reading
The Hobbit
right now, in case you couldn't tell.
There are so many details to sort out for a big trip: passport and visa, packing the right things, getting shots, calling credit card and phone companies, and generally making sure you have all your ducks in a row while you're gone.. But after everything is ready, after all the late-night trips to Walgreens and drives to Backwoods in Fort Worth, the only thing that's left is the delicious anticipation of what's going to happen, who I will meet, and how I will be changed up there. That's how I'm feeling today...I'd also be lying if I said I wasn't super super nervous. But that usually goes away after the first glass of wine on the plane.
As is usually the case with events where months of preparation are required for only a few hours of enjoyment (think weddings, 5k races), I want to relish every moment I am there, because I know it will be over quicker than I can say "Jambo." Preparation for this has led me to some great moments, personal accomplishments, etc, and that was only the training! It's time to see what the actual event has for me. In one of the many guides I read about climbing Kili, and they said to write down or say aloud to your tent mates five "miracles" that you witness every day on the mountain, without repeating one miracle. I am promising myself that I will look for those miracles, be it an African sunset, spotting a random bird I've never seen before, or simply making it through another hour of hiking.
Next time I write, I'll be in the middle of an adventure, with the world either on my shoulders or below my feet. Let's get this thing started.
"There are no safe paths in this part of the world. Remember you are over the Edge of the Wild now, and in for all sorts of fun wherever you go." --The Hobbit